Contact your VDWS Center to get your Wingboarding Workbook!
Wingboarding Workbook with its many photo series and easy to understand explanations is the ideal companion for your wingsurfing or wingfoil course and is available in every well-stocked VDWS school.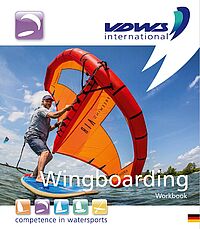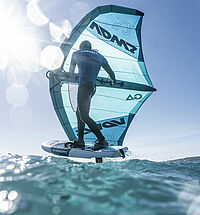 ---
Learn to Wingsurf or Wingfoil
Whether windsurfer, kitesurfer, or stand up paddler - wingboarding unites water sports enthusiasts from the most diverse areas. For those who want to start with wingsurfing without any previous experience, the courses are similar to classic windsurfing beginner courses. In wingsurfing, too, the first thing is to be able to control the wing and keep your balance on a board that is still relatively large at this point. In fact, for the first few hours of a course, windsurfing beginner boards are excellent for getting familiar with the wing, steering and orientation on the water.
In our schools, wingsurf beginner courses are therefore often offered in parallel with windsurf beginner courses, as the learning path is almost identical. Once the first hurdles have been successfully overcome at the end of this course, the whole world of possibilities is open to a wingsurfer.
Have fun with it!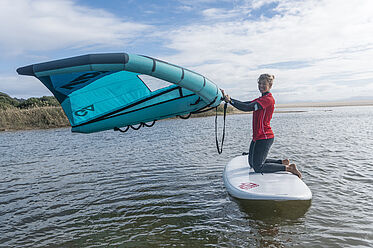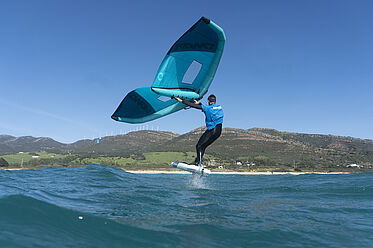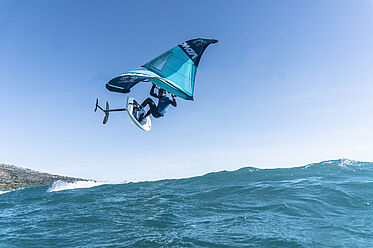 Am besten lernt Ihr Wingsurfen in einer der vielen VDWS-Stationen und bei speziell dafür ausgebildeten Wingsurf-Instructoren. Um Euch dabei bestmöglich zu unterstüzten und das Lernen transparent zu gestalten, haben wir die Lernschritte in 4 unterschiedliche Stufen aufgeteilt. Jeder dieser Abschnitte kann als Sprosse einer Leiter verstanden werden, die Euch Eurem Ziel ein Stückchen näher bringt. Der sicherste und schnellste Weg nach oben ist - um beim Beispiel unserer Leiter zu bleiben - keine dieser Sprossen zu überspringen.
Step 1 - Basics
The first step is to learn the basics about the material as well as wind and weather in general. Furthermore you will learn how to position the wing to the wind so that you can move on the water.
Step 2: Wingsurfing in displacement
The basics of wingsurfing are easiest to learn on a big, voluminous beginner board. Such boards - unlike foil boards - move through rather than over the water, making control and balance much easier. So the less you have to concentrate on the board in the beginning, the faster and more efficient you will learn to handle your wing.
Step 3: Safety and orientation
The third step is about evasion rules, courses to the wind and orientation on the water. You will learn to recognize and avoid dangerous situations, as well as important basic rules for water sportsmen to protect nature and the environment.
Step 4: Time to fly
After you have mastered the basics of wingsurfing and the basic maneuvers on the beginner board are no longer a problem, it is time to dedicate yourself to the next evolutionary step - wingfoiling. From now on it's all about flying weightlessly over the water.