All trainees get a personal Wingsurfing licence from their instructor. This card (with its specific licence number) aims to be a permanent companion and, by this, illustrates one's VDWS Wing-apprenticeship for the rental of equipment and vis-à-vis local authorities.
Every passed level will be confirmed and recorded by a corresponding sticker on the Wingsurfing licence-card.
The level system includes 7 levels. For the classic basic licence however, you need to complete only level 1.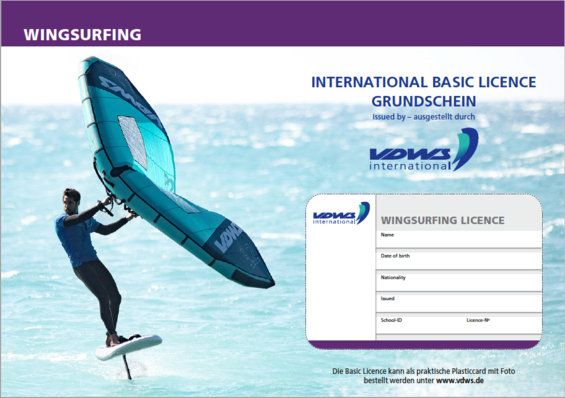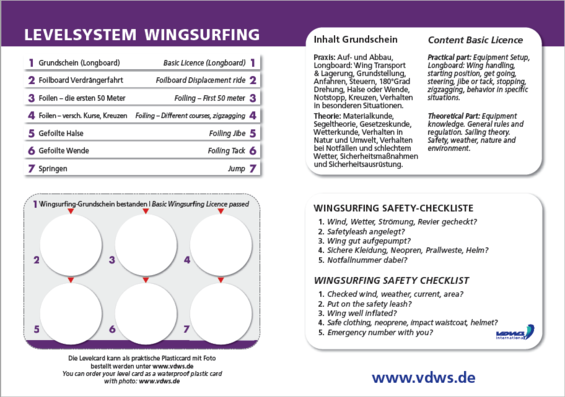 Basic Licence - International proof of qualification
Practice:
Set-up and dismantling, longboard: wing transport
& storage, basic position, starting, steering, 180°degree turn, jibe or tack, emergency stop, going upwind, behaviour in special situations.
Theory:
Theory of material, sailing theory, law, weather, behaviour in nature and environment, behaviour in emergencies and bad weather, safety measures and safety equipment.

The levels 2 - 7 shown on the wingboarding licence document the learning progress and serve as a guide to becoming an experienced wing foiler. They are not necessary for obtaining the basic licence, but can be acquired bit by bit over time.