The spectrum of Stand Up Paddling is very diverse. You can train on shore breakers or paddle a smooth downwinder along the coast. One can experience nature on an inland lake or explore the landscape on the river. A SUP sightseeing tour on the canals of a city can provide you with an entirely new perspective. And why not simply use the board for the early morning or sundowner workout?
SUPs are available for rental in many VDWS centers. Our affiliated schools also offer the possibility to participate in a course in order to learn the proper paddling technique, or to join an organized tour.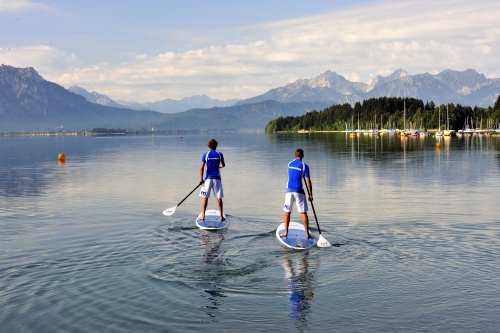 The following safety rules should be observed
Background: physical handicaps, boardsport experiences.
Check: wind and weather, currents, tides, shallow waters, obstacles in the water, restricted area, international rules in order to avoid collusions, aquatic creatures, unknown and polluted waters.
Wind direction: always start going windward, getting leeward happens automatically. As from 4 bft. paddling against the wind becomes impossible.
Boards: are very wind-sensitive due to their volume, sharp-edged fin. Cast-off parallel to the wind or bow windward.
Paddle: a source of danger (impale), injury risk when falling off.
Leash: pay attention to the correct length (= board length), risk of strangling and falling.
Getting off the board: in a controlled manner, via kneeing position.
When falling: protect head by arms, no dive, try to fall in a controlled manner, away from the board, fall "flat" in flat water.
Shore break: never let the board get between you and the wave.
Coming up: slowly due to danger of impact (board, fin), wait until leash tensioned for a better orientation, protect head by arms.
River: whitewater jacket, whistle, helmet, shoes, leash at waistbelt, close at hand.